Coast Guard Auxiliary Operations Page

*RECREATIONAL BOATING SAFETY *VESSEL SAFETY CHECKS
* BOAT CREW * AIDS TO NAVIGATION * BRIDGE ADMINISTRATION
* CIVIL AIR PATROL SUPPORT * MARINE ENVIRONMENTAL PROTECTION AND SAFETY * PORT SAFETY AND SECURITY
* SEARCH AND RESCUE* VESSEL INSPECTIONS * AIR PATROLS * *MARINE DEALER VISITS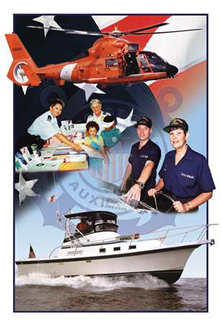 The purpose of the Auxiliary Operations program is to assist the Coast Guard in their non-military, non-law enforcement activities on the waters of the United States.

These activities include:

Safety Patrols by surface vessels during periods of high levels of recreational boating.

Search and Rescue missions by both vessels and aircraft facilities.
Perimeter security for regattas and marine parades.
Support transport missions (personnel and supplies) during natural disasters .
Radio watch standing in support of both Auxiliary and Coast Guard activities.
Back to Home Page